Nothing is more important than the health and safety of our campus community. You're encouraged to know and practice habits that support the Culture of Care. We can all do our part in keeping the U‑M community as healthy and as safe as possible. Visit the Campus Maize & Blueprint for the latest COVID-19 data, public health community notices, FAQs, and more.
UPDATE as of Thursday, May 27, 2021
Starting Tuesday, June 1, U‑M students and Recreational Sports members will no longer need to make a reservation for entry into Recreational Sports facilities and lap swimming lanes. All other activity areas within the facilities will continue to operate as they have until further notice. We will announce other changes to our facility operations as they become available over the coming weeks. We appreciate your patience as our team makes adjustments to your experience during this transition back to a more normal experience. Stay tuned for updates in the near future.
COVID-19 Test Verification
Recreational Sports requires all members to show the screen of their ResponsiBLUE app displaying their COVID-19 screening check results in order to enter Recreational Sports facilities. Members are not required to have taken a COVID test prior to using any Recreational Sports facilities. This step will be in addition to swiping your MCard, Rec Card, or checking in with the Rec Sports app. Anyone with a red check will not be allowed entry. You can download the ResponsiBLUE app here.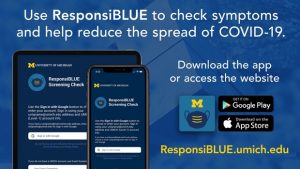 Undergraduate students, along with graduate and professional students starting February 16, will need to show the screen of their ResponsiBLUE app displaying their COVID-19 testing status upon entering any Recreational Sports facilities. The University is requiring all U‑M Ann Arbor undergraduate, graduate, and professional students complete weekly mandatory COVID-19 testing through U‑M. Undergraduate students will either have a "COMPLETED" or "EXPIRED" status displayed on their screen at the end of the symptom check process. For more information about ResponsiBLUE and COVID-19 mandatory testing, please visit the Campus Blueprint website.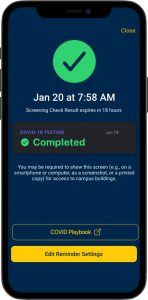 We know that health and safety are key for everyone right now, and we're doing everything we can to make sure your experience is the best it can be. 
Modifications We Made
Face coverings are required at all times except when drinking, showering or swimming in the pool
Modified facility hours to allow for increased cleaning during the day
Facility capacity limits established to assist with de-densification
Added plexi glass barriers to Welcome Center desks
Increased locations for disposable wipes for user cleaning
Touchless hand sanitizer stations
Contactless check-in with new UM Rec Sports app
No cash payments allowed
Increased staffing levels for cleaning
PPE and required health screenings for all employees
Bins will be available at each swimming lane to store personal belongings and mask
Swimming equipment will be cleaned between reservations
Face coverings must be worn to and from a swimming lane
Activity Modifications as of June 1, 2021
Cardio and strength equipment will begin to transition back to their original locations over the next few weeks
Group and team court activities with balls/racquets within court/multipurpose spaces (basketball, volleyball, badminton, racquetball, squash, wallyball, etc.) can resume as space becomes available and can be reserved by making an Activity Reservation.
Social distancing between equipment and users will no longer be needed
In-person Group‑X classes will resume starting June 30
Indoor rentals can resume at 50% capacity through June 30
Saunas will remain closed until July 1
Next phases
We will continue to evaluate when other traditional services will be allowed.  This will be based on a number of factors, including but not limited to: Federal, State & University requirements, the status of campus operations, COVID data & trends, evaluation of current operations, operational needs and resources available.
We've created a new U‑M Rec Sports app to allow for contactless entry to the facilities, make court reservations, find building hours and more. Download the app by searching for "UM Rec Sports" in the iPhone App Store or the Google Play Store for Android.
We understand that as a Recreational Sports member, you might be wondering how the pandemic and reopening our spaces have impacted your membership with us. If you're unable to find the answers below, feel free to email us at recsportsmemberservices@umich.edu.
Past Members
If you discontinued your membership with Recreational Sports during COVID-19, you are eligible to renew your membership with us. Log into your account on the webstore to renew, or email our Members Services team at RecSportsMemberServices@umich.edu to do so.
Continuing Students
As of April 23, 2021, memberships are available for purchase for continuing students. Continuing students are:
University of Michigan graduates from Winter 2021
University of Michigan students who are not taking classes during the Spring/Summer 2021 semesters, but are enrolled in the Fall 2021 semester
Recently graduated high school students who have their University of Michigan acceptance letter
Rackham graduate students
UM-Dearborn UM-Flint Students
Membership Duration and Rates
Spring semester | May 1 – June 29 : $64
Summer semester | June 29 – August 29 : $64
Spring/Summer Combined | May 1 – August 29 : $127
To purchase your membership, visit our webstore and follow the instructions below.
There is 1 item. Expand all into a list.
How to Purchase Your Membership
Visit webstore.umich.edu
Click Log In and select the UM affiliates button. Log in using your UM credentials.
Next, click the Membership icon
Click on Individual Primary Student
Select the term you would like to purchase and click Add to Cart
Next, you will read and accept the terms and conditions. Please note if you do not accept the terms are conditions, you cannot purchase a membership.
Click Checkout
Fill in your payment information and hit submit
PLEASE NOTE: If it is before the term start date, your access will start on the start date. If it is after the term start date, your access will start automatically.
Cancellations & Refunds
Members must submit the online cancellation form no later than the 11th day of the month to avoid being billed for the upcoming month.
New Members
New membership sales will be available starting Tuesday, June 1, 2021.
Lockers
New locker sales will be available starting Tuesday, June 1, 2021.
For current locker holders: 4-month and 12-month members can renew memberships only online