Nothing is more important than the health and safety of our campus community. You're encouraged to know and practice habits that support the Culture of Care. We can all do our part in keeping the U‑M community as healthy and as safe as possible. Visit the Campus Maize & Blueprint for the latest COVID-19 data, public health community notices, FAQs, and more.
UPDATE as of Tuesday, October 19, 2021
Starting Wednesday, October 20, 2021, Recreational Sports will pilot a new face covering policy in partnership with U‑M Environmental, Health & Safety (EHS) and the COVID-19 Campus Health Response Committee (CHRC).
The new policy states that face coverings are strongly recommended, but not required for anyone engaged in physical activities while inside Recreational Sports facilities. 
The pilot project will extend through December 31, 2021, but can be amended, revoked, or extended at any time. Throughout the pilot project, the new policy will be reviewed by Recreational Sports and Environmental, Health and Safety.
The new policy allows for individuals engaged in the following activities to remove their face covering while they are actively engaged in that physical activity:  
Court sports (basketball, volleyball, badminton, pickleball, racquetball, squash, handball, etc.)
Club and Intramural sports activities
Functional fitness activities
Group exercise or personal training activities
Lifting weights
Running, jogging, walking or other Indoor track use
Swimming
Active participation in other physical activities, not listed above
Face coverings will continue to be required while within: 
Facility entry, check-in and exiting
All hallways and while traversing the facility to any activity areas
Restroom and locker room areas (except while showering)
All meeting rooms, social spaces, lounge areas, vending areas, and office areas (unless alone in an office with the door closed)
All other U‑M policies apply.
ResponsiBLUE, the daily COVID-19 symptom-checker app, continues to be required for all students and Recreational Sports members to enter Recreational Sports facilities.
COVID-19 Test Verification
Recreational Sports requires all members to show the screen of their ResponsiBLUE app displaying their COVID-19 screening check results in order to enter Recreational Sports facilities. Members are not required to have taken a COVID test prior to using any Recreational Sports facilities. This step will be in addition to swiping your MCard, Rec Card, or checking in with the Rec Sports app. Anyone with a red check will not be allowed entry. You can download the ResponsiBLUE app here.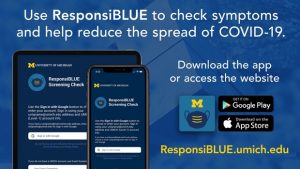 All students and Recreational Sports members will need to show the screen of their ResponsiBLUE app displaying their COVID-19 testing status upon entering any Recreational Sports facilities. Students and members will either have a "COMPLETED" or "EXPIRED" status displayed on their screen at the end of the symptom check process. For more information about ResponsiBLUE and other COVID-19 information, please visit the Campus Blueprint website.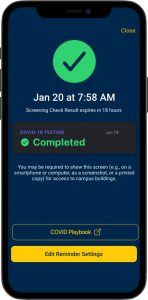 We know that health and safety are key for everyone right now, and we're doing everything we can to make sure your experience is the best it can be. 
We've created a new U‑M Rec Sports app to allow for contactless entry to the facilities, make court reservations, find building hours and more. Download the app by searching for "UM Rec Sports" in the iPhone App Store or the Google Play Store for Android.
We understand that as a Recreational Sports member, you might be wondering how the pandemic and reopening our spaces have impacted your membership with us. If you're unable to find the answers below, feel free to email us at recsportsmemberservices@umich.edu.
New Members
Fill out our membership form to get your membership started!
Past Members
If you discontinued your membership with Recreational Sports during COVID-19, you are eligible to renew your membership. Just fill out our membership form to get the ball rolling with us!
Continuing Students
As of April 23, 2021, memberships are available for purchase for continuing students. Continuing students are:
University of Michigan graduates from Winter 2021
University of Michigan students who are not taking classes during the Spring/Summer 2021 semesters, but are enrolled in the Fall 2021 semester
Recently graduated high school students who have their University of Michigan acceptance letter
Rackham graduate students
UM-Dearborn UM-Flint Students
Membership Duration and Rates
Spring semester | May 1 – June 29 : $64
Summer semester | June 29 – August 29 : $64
Spring/Summer Combined | May 1 – August 29 : $127
Students enrolled for Fall 2021 classes will have access to Recreational Sports facilities starting August 18, 2021.
Lockers
Fill out our locker form to purchase a new locker, renew your current locker, or transfer your locker.
Cancellations
Monthly recurring payments options are non-refundable/non-transferable. All cancellations must be submitted using the online membership cancellation form .
Cancellations received by the 5th of the month: membership(s) will expire on the 12th of that same month, and automatic charges will stop with that month's payment.
Cancellations received after the 5th of the month: membership(s) will expire on the 12th of the following month, and automatic charges will stop after the next month's deduction.
Refunds
Memberships are non-refundable, except for medical and health conditions, deployment, or extraneous circumstances. Money is refunded by the same method that payment was made (for instance, if you paid with a Visa card, your refund will be posted to the same Visa card). Please note: there is a six- to eight-week processing period for check refunds. Please email recsportsmemberservices@umich.edu for further questions. To request a refund, please fill out our Refund Request Form.